Creative ignorants who are not aware that their Norway is one of the countries withe EISCAT weather control system.
https://www.nrk.no/chasing-climate-change-1.14859595
EISCAT
https://en.wikipedia.org/wiki/EISCAT
Long term weather control means climate control.
The climate is changed by climate control measures.
Climate control is implemented to manage the tropospheric wind-water streams, in the case of Norway to deliver water to Saudi Arabia for industrial desert farming and fracking of oil and gas.
While the people in Norway may wonder about the "warming" in whole Scandinavia, they should question how this is connected to the freezing in Arabia, plus the huge amounts rain, hail and snow falling onto the desert.
The ground water level is regularly increased by that. About 230 dams are filled and thousand of kilometers of water pipelines are build for effective water distribution.
#
Saudi
#
water
pipelines (thousands of kilometers) & dams (at least 230) & #
CO2
#
gasification!
https://geoarchitektur.blogspot.com/p/saudi-water-pipelines-and-dams.html
Do You want more evidence?
Wollt ihr dazu Beweise sehen?
Look here is current footage!
https://twitter.com/i/status/1219620479880908800
Wild animals are freezing!
https://twitter.com/i/status/1217442021381754882
https://twitter.com/i/status/1221168238467461121
https://twitter.com/i/status/1221286813454819330
https://twitter.com/i/status/1216663361083133952
https://twitter.com/i/status/1221381202499772416
Also the bees freeze under these non-natural cold!
https://twitter.com/i/status/1216751762050187270
Settlements are flooded by flash rain, hail and snow!
https://twitter.com/i/status/1217428872960118785
Do Yo miss snow in winter? Look, Arabs have enough snow!
https://pbs.twimg.com/media/EN6xdnIWoAAlVwF?format=jpg&name=large
Artificially created water falls in the Arabian Desert, made by climate control!
https://twitter.com/i/status/1206219752450011137
#
climate
#
climatechange
#
Pinatubo-Effect
#
SRM
#
HAARP
#
FightClimateControl
#
ClimateControl
#
EarthSystemGovernance
#
water
#
war
#
usa
#
Saudi
#
Arabia
#
farming
#
desert
#
fracking
#
oil
#
petrol
#
gas
#
petrodollar
#
dollar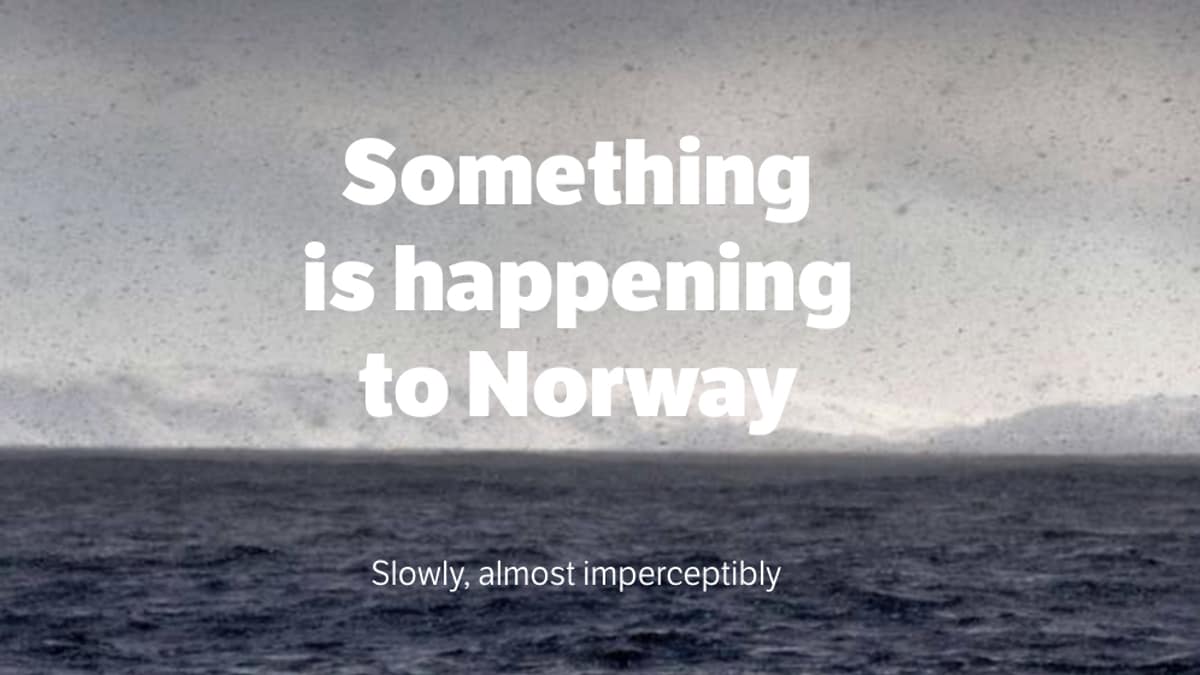 In Norway, way up by the Arctic circle, global warming is already affecting people and nature. Here's how.
www.nrk.no