:: 44-081 [FC]When Protags Meet ::
Full title: ~ When Protagonists (from the various RPGs I play) Meet ~
Here's the stuff I've been working on... and it's a long post because I used image links instead of uploading the pics. I actually don't like having images appear as the first thing in a post. I like to go, "Blah bla bla, here's an image, bla bla blah. The End."
So, what have we here? This is a
fan comic of my top PC game characters,
inspired by a passing thought of how they all have guns except for my Doram (cat). Thomas was an extra; he followed the cat. Since I have nothing to draw, I made this! xD I only drew and coloured casually, so it's kinda all wonky-lines and not as neat as my single pieces.
---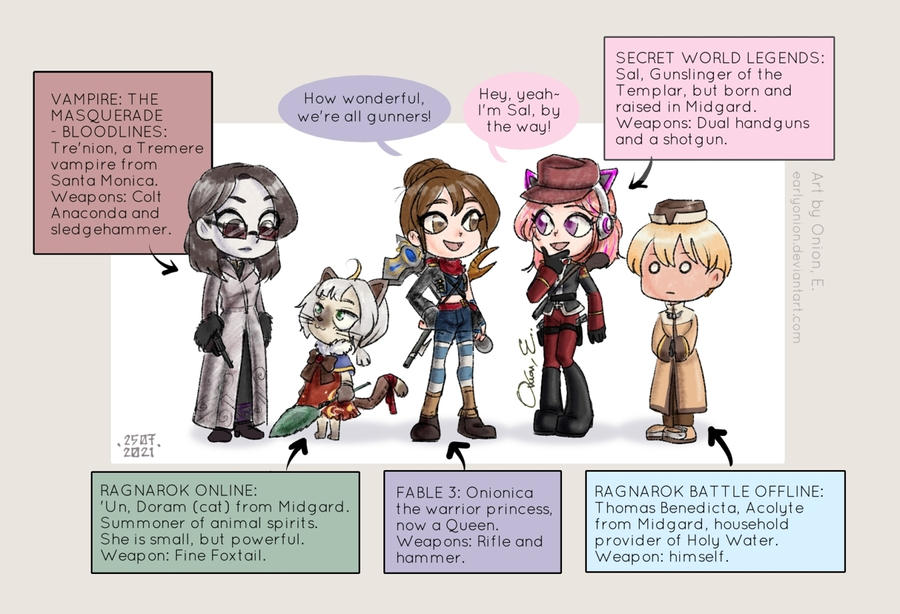 Self-explanatory intro page.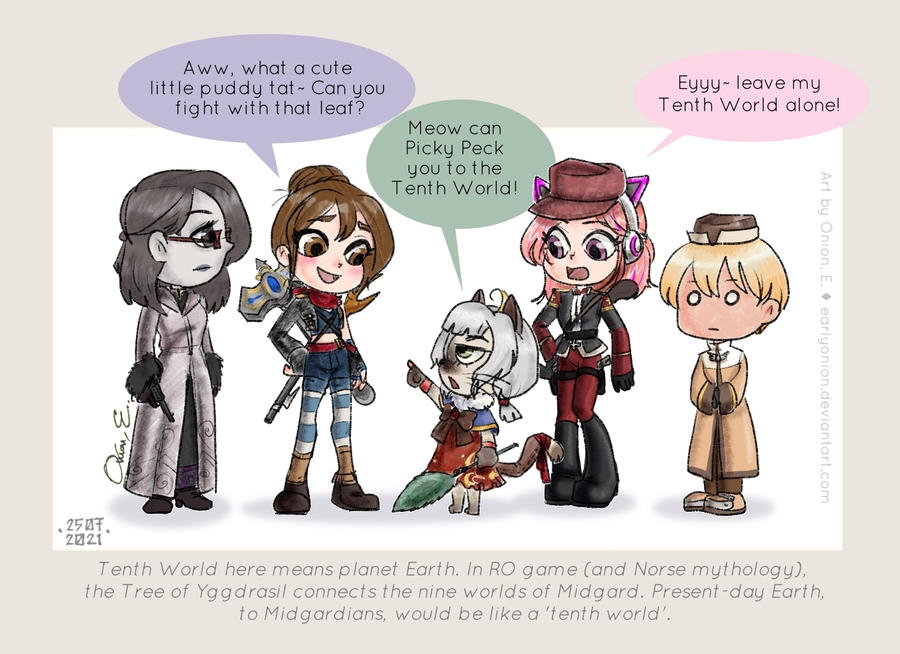 It is true that Un has no gun, but she is the highest single-target damage dealer among my RO characters.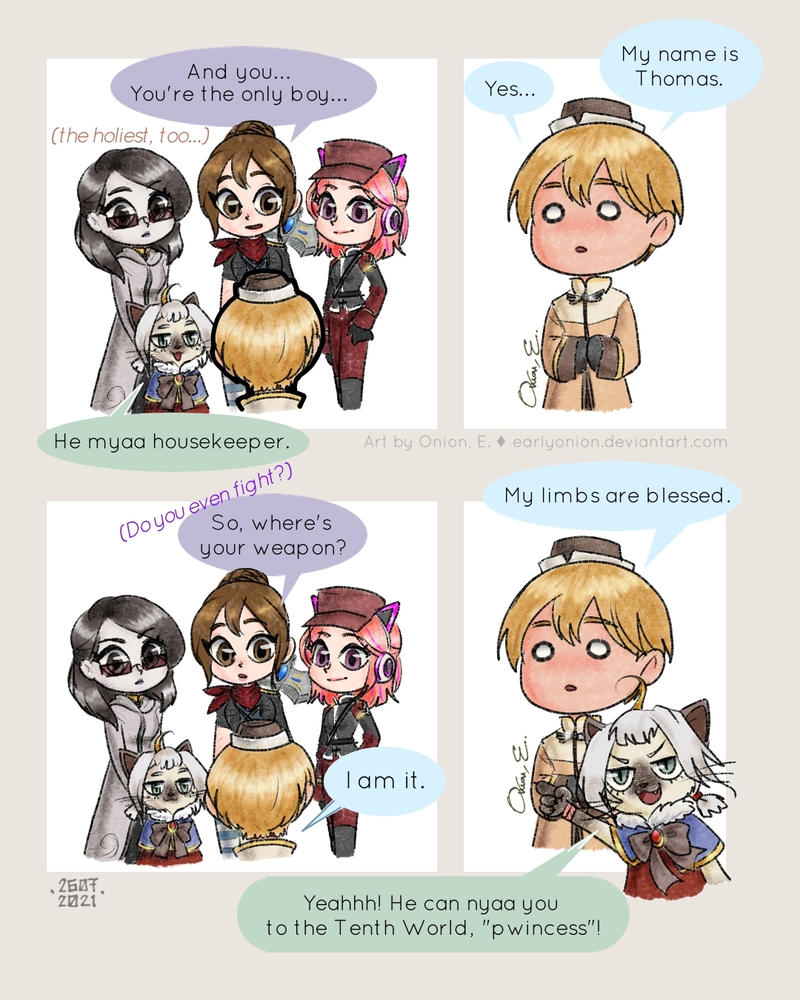 Trust him, his limbs ARE blessed. With prayers to Odin, the guy can bitchslap the Doppelganger and kick Baphomet's ass. Playing RBO using Thomas (as in, a male Acolyte) is a real stress-reliever. xDAnd Un is going all hostile on Onionica (Fable 3). Un probably hated her tone when the brunette teased her.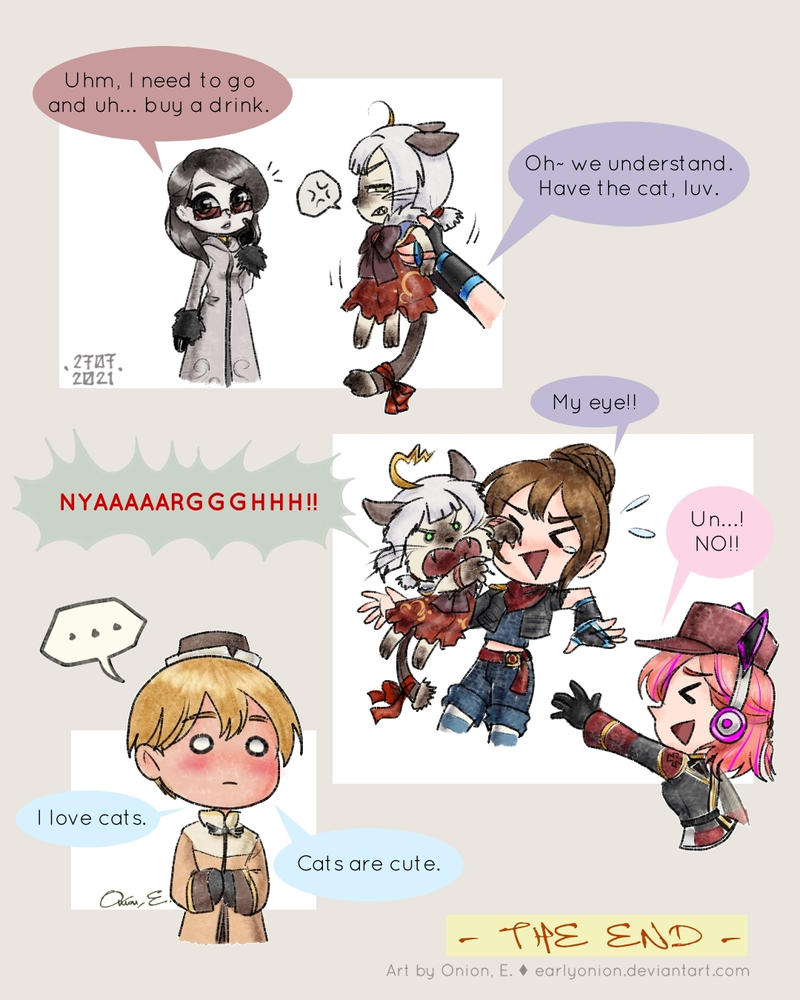 Tre'nion does not drink the blood of animals. OK, that's a lie. Rats have been in the menu during her visit to Hollywood sewers; but she prefers blood packs, not cats. And Un has had enough of being teased. Do not mess with a Doram's Scratch skill.
.
THE END!
Done using Krita.
--
Illustration by Early Onion. Character/world designs and concepts © WhiteWolf (VtMB), Lionhead Studios (Fable 3), Lee Myoung-Jin & Studio DTDS (RO), Funcom Oslo (SWL), and French Bread (RBO).★ If sharing/reposting outside of Diaspora, please credit me and link back to my dA page/post. Please do not use, edit, copy, trace, plagiarise, steal, and/or commercialise my work and/or characters in any way without my permission. Thank you.
#
mywork
#
art
#
fanart
#
comic
#
drawing
#
illustration
#
people
#
semichibi
#
chibi
#
digitalart
#
krita
#
VtMB
#
VampireTheMasqueradeBloodlines
#
Tremere
#
Fable3
#
RagnarokOnline
#
Doram
#
cat
#
RagnarokBattleOffline
#
Acolyte
#
SecretWorldLegends