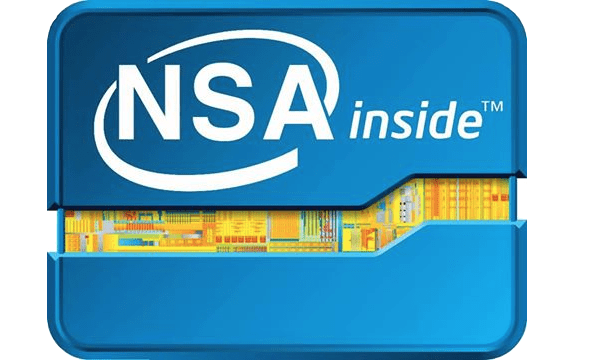 Only use computers certified to Respect Your Freedom (RYF)
The #
Intel
#
Management
#
Engine
is present on all Intel #
desktop
, #
mobile
( #
laptop
), and #
server
#
systems
since mid 2006. It consists of an #
ARC
#
processor
core (replaced with other processor cores in later generations of the ME), #
code
and #
data
#
caches
, a #
timer
, and a secure #
internal
#
bus
to which additional #
devices
are connected, including a #
cryptography
engine, internal #
ROM
and #
RAM
, #
memory
#
controllers
, and a direct memory access ( #
DMA
) engine to access the host operating system's memory as well as to reserve a region of protected external memory to supplement the ME's limited internal RAM. The ME also has #
network
access with its own #
MAC
#
address
through an Intel #
Gigabit
#
Ethernet
#
Controller
. Its #
boot
program, stored on the internal ROM, loads a #
firmware
"manifest" from the PC's SPI #
flash
#
chip
. This manifest is signed with a strong #
cryptographic
#
key
, which differs between versions of the ME firmware. If the manifest isn't signed by a specific Intel key, the boot ROM won't load and execute the firmware and the ME processor core will be halted.
The Active Management Technology ( #
AMT
) application, part of the Intel "vPro" brand, is a #
Web
server and application code that enables #
remote
#
users
to #
power
on, power off, view information about, and otherwise manage the #
PC
. It can be used remotely even while the PC is powered off ( via #
Wake-on-Lan
). Traffic is encrypted using #
SSL
/ #
TLS
libraries, but recall that all of the major SSL/TLS implementations have had highly publicized vulnerabilities. The AMT application itself has known #
vulnerabilities
, which have been #
exploited
to develop #
rootkits
and #
keyloggers
and #
covertly
gain #
encrypted
#
access
to the management features of a PC. Remember that the ME has full access to the PC's RAM. This means that an #
attacker
exploiting any of these vulnerabilities may gain access to everything on the PC as it runs: all open #
files
, all running #
applications
, all #
keys
pressed, and more.
ME firmware versions 4.0 and later (Intel 4 Series and later chipsets) include an ME application for audio and video DRM called "Protected Audio Video Path" (PAVP). The ME receives from the #
host
operating system an encrypted #
media
#
stream
and encrypted key, decrypts the key, and sends the encrypted media decrypted key to the #
GPU
, which then #
decrypts
the media. PAVP is also used by another ME application to draw an #
authentication
PIN pad directly onto the screen. In this usage, the PAVP application directly controls the graphics that appear on the PC's screen in a way that the host #
OS
cannot detect. ME firmware version 7.0 on PCHs with 2nd Generation Intel Core #
i3
/ #
i5
/ #
i7
(Sandy Bridge) CPUs replaces PAVP with a similar DRM application called "Intel Insider". Like the AMT application, these DRM applications, which in themselves are defective by design, demonstrate the #
omnipotent
#
capabilities
of the ME: this #
hardware
and its proprietary firmware can access and #
control
everything that is in RAM and even everything that is shown on the #
screen
.
The Intel Management Engine with its #
proprietary
firmware has complete access to and control over the PC: it can power on or shut down the PC, read all open files, examine all running applications, track all keys pressed and #
mouse
movements, and even #
capture
or #
display
#
images
on the screen. And it has a network interface that is demonstrably #
insecure
, which can allow an attacker on the network to #
inject
#
rootkits
that completely compromise the PC and can report to the attacker all activities performed on the PC. It is a #
threat
to #
freedom
, #
security
, and #
privacy
that can't be ignored.
Before version 6.0 (that is, on systems from 2008/2009 and earlier), the ME can be disabled by setting a couple of values in the SPI flash memory. The ME firmware can then be #
removed
entirely from the flash memory space. Libreboot does this on the Intel 4 Series systems that it supports, such as the Libreboot X200 and Libreboot T400. ME firmware versions 6.0 and later, which are found on all systems with an Intel #
Core
i3/i5/i7 CPU and a PCH, include "ME Ignition" firmware that performs some hardware #
initialization
and power management. If the ME's boot ROM does not find in the SPI flash memory an ME firmware manifest with a valid Intel signature, the whole PC will shut down after 30 minutes.
Due to the signature verification, developing free #
replacement
firmware for the ME is basically impossible. The only entity capable of replacing the ME firmware is Intel. As previously stated, the ME firmware includes proprietary code licensed from third parties, so Intel couldn't release the source code even if they wanted to. And even if they developed completely new ME firmware without third-party proprietary code and released its source code, the ME's boot ROM would reject any modified firmware that isn't signed by Intel. Thus, the ME firmware is both hopelessly proprietary and #
tivoized
.
For years, #
coreboot
has been #
struggling
against Intel. Intel has been shown to be extremely uncooperative in general. Many coreboot #
developers
, and #
companies
, have tried to get Intel to #
cooperate
; namely, releasing source code for the firmware components. Even #
Google
, which sells millions of #
Chromebooks
(coreboot preinstalled) have been #
unable
to #
persuade
them.
Even when Intel does cooperate, they still don't provide source code. They might provide limited #
information
(datasheets) under #
strict
#
corporate
#
NDA
( #
non-disclosure
#
agreement
), but even that is not guaranteed. Even ODMs and IBVs can't get source code from Intel, in most cases (they will just integrate the blobs that Intel provides).
In summary, the Intel #
Management
#
Engine
and its applications are a #
backdoor
with #
total
access to and control over the rest of the PC. The ME is a threat to freedom, security, and privacy, and the Libreboot project strongly recommends avoiding it entirely. Since recent versions of it can't be removed, this means avoiding all #
recent
#
generations
of Intel hardware.
Recent Intel graphics chipsets also require firmware blobs
Intel is only going to get #
worse
when it comes to user freedom. Libreboot has no support recent Intel platforms, precisely because of the problems described above. The only way to solve this is to get Intel to #
change
their #
policies
and to be more #
friendly
to the free software #
community
. Reverse engineering won't solve anything long-term, unfortunately, but we need to keep doing it anyway. Moving forward, Intel hardware is a non-option unless a #
radical
change happens within Intel.
Basically, all Intel hardware from year 2010 and beyond will never be supported by Libreboot. The Libreboot project is actively #
ignoring
all modern Intel hardware at this point, and focusing on #
alternative
platforms.
Why is the latest AMD hardware unsupported in Libreboot?
It is extremely unlikely that any post-2013 #
AMD
hardware will ever be supported in Libreboot, due to severe security and freedom #
issues
; so #
severe
, that the Libreboot project recommends avoiding all modern AMD hardware. If you have an AMD based system affected by the #
problems
described below, then you should get rid of it as soon as possible.
AMD Platform Security Processor (PSP)
This is basically AMD's own version of the Intel Management Engine. It has all of the same basic security and freedom issues, although the #
implementation
is wildly different.
The Platform Security Processor (PSP) is built in on all Family 16h + systems (basically anything post-2013), and controls the main #
x86
core #
startup
. PSP firmware is cryptographically signed with a strong key similar to the Intel ME. If the PSP firmware is not present, or if the AMD signing key is not present, the #
x86
cores will not be #
released
from #
reset
, rendering the system #
inoperable
.
The PSP is an ARM core with TrustZone #
technology
, built onto the main CPU die. As such, it has the ability to #
hide
its own program code, scratch RAM, and any data it may have taken and stored from the lesser-privileged x86 system RAM (kernel encryption keys, #
login
data, #
browsing
#
history
, #
keystrokes
, who knows!). To make matters worse, the PSP theoretically has access to the entire system memory space (AMD either will not or cannot deny this, and it would seem to be required to allow the DRM "features" to work as intended), which means that it has at minimum MMIO-based access to the #
network
controllers and any other PCI/PCIe peripherals installed on the #
system
.
In theory any #
malicious
entity with access to the AMD signing key would be able to install persistent #
malware
that could not be eradicated without an external flasher and a known good PSP image. Furthermore, multiple security vulnerabilities have been demonstrated in AMD #
firmware
in the #
past
, and there is every #
reason
to assume one or more zero day vulnerabilities are lurking in the PSP firmware. Given the extreme privilege level (ring -2 or ring -3) of the PSP, said vulnerabilities would have the ability to #
remotely
#
monitor
and control any PSP enabled machine completely outside of the user's #
knowledge
.
A reliable way to avoid Intel and AMD's universal backdoors is to use computers with such spyware effectively removed or disabled like the ones certified to
Respect Your Freedom (RYF)
.
#
NSA
#
spyware
#
spy
#
mass
#
surveillance
#
FSF
#
GNU
#
GNULinux
#
RYF
#
technology
#
laptops
#
CPU
#
processor
#
universal
#
backdoor
#
malware
#
Corei3
#
Corei5
#
Corei7